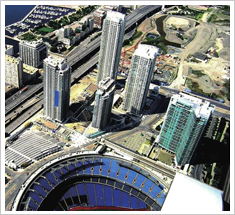 About us
The Integrated Urban Research Center (IURC), established on November 1st, 2009, is located at the University of Seoul (UOS) and performs innovative research projects with passion and dedication on various sustainable urban development issues in urban areas. IURC's team of professionals conducts research to develop models and policies, which are able to address complex sustainable urban development issues with the cooperation of five UOS departments: Urban Administration, Environmental Engineering, Transportation Engineering, Urban Engineering, and Geoinformatics. All our research staffs continue to make every effort to develop practical sustainable development models and policies with the cooperation of local governments and other research centers as well as to become a leading institute in sustainable urban development policy and model research areas.
Research Areas
[ ENVIRONMENTAL ENGINEERING ]
- Air Pollution Study and Analysis
- Ambient Air Quality Measure & Analysis
- Air Dispersion Model
- Indoor Environmental Study & Analysis
- Development of Air Pollutant & Greenhouse
- Gas emission Source Inventory
- Urban Energy Usage Analysis
- Integrated Management of Air Pollutants and Green-house Gas

  [ TRANSPORTATION ENGINEERING ]
- Transportation Demand Analysis Model
- Intelligent Transportation System
- Traffic Flow Management
- Sustainable Transportation System
- Urban Mass Transportation Management and Operation Methodologies

[ URBAN ENGINEERING ]
- Integrated Land-use Transportation Model
- Development of Sustainable land use policies
- Interaction theories between land use and transport
- Assessment of sustainable urban development
- Urban spatial structure for reducing the transport energy and carbon emissions

  [ URBAN ADMINISTRATION ]
- Urban Administration : Administration as Local Government
- Real Estate : Land, Housing, Local Development
- Urban Issues : Welfare, Housing price, Traffic jam
- Urban Planning

  [ GEOINFORMATICS ]
- Spatial Data Mining
- Spatial Databases and Geo-statistics
- UrbanSim Model : Geo-simulation and Visualization
- Analysis of Pedestrian Micro Movements
- Space Syntax Model
Recent Activities
- District Energy Usage Patterns and Potential Saving in the Built Environment : case study of two District in Seoul, South Korea Asian Journal of Atmospheric Environment, 2014.
- Development of an Algorithm for Minimization of Passenger's Waiting Time Using Smart Card Data, Journal of Korea Spatial Information System Society, 2014.
- A Study on the Changing Process of Land Readjustment Projects from the Perspective of Historical Institutionalism, Korean Association of Space & Environment Research, 2014.
- Analysis of Physical Environmental Factors that Affect Pedestrian Volumes by Street Type, Journal of The Urban Design Institute of Korea, 2015.
- A Study on the Integrated Decision Making System for Greenhouse Gas Reduction(GHGR) in Urban Planning, Regional Policy Research of Chungbuk Research Institute, 2015.
- An Analysis of energy consumption to identify urban energy poverty in Seoul, International Journal of Urban Sciences, 2016.
- Analysing driving patterns of electric taxi based on the location of charging station in urban area, IEEE International Smart Cities, 2016.
- An analysis of energy consumption to identify urban energy poverty in seoul, International Journal of Urban Sciences, 2016.
- An analysis of evacuation under fire situation in complex shopping center using evacuation simulation modeling, Procedia
- Social and Behavioral Sciences, 2016.
- A study on the activation plan of electric taxi in Seoul, Journal of Cleaner Production, 2017.
Faculty
- Prof. Shin-Do Kim / Environmental Engineering
- Prof. Soon-Tak Suh / Urban Administration
- Prof. Seung-Jae Lee / Transportation Engineering
- Prof. Seun-Il Lee / Environmental Urban Engineering
- Prof. Chulmin Jun / Geoinformatics