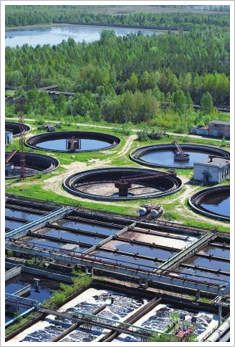 About us
Both water and energy are critical, mutually dependent resources?the production of energy requires large volumes of water and water infrastructure requires large amounts of energy. R&D Center of Core Technologies for Water Treatment is established to research and develop BT-IT-NT convergent technologies for energy-efficiently treat water and wastewater and commercialize them. In addition, it develop technologies to extract energy or resources from water and wastewater infrastructure. For this purpose, the center emphasizes academic publication, presentation, and lecturing activities regarding water treatment technologies. The center designs research projects to provide solutions to domestic and international water-energy nexus issues.
Research Areas
[ Urban Environment Area ]
- Water supply system and domestic and industrial wastewater treatment system.
- Energy cycle in infrastructure
- Process control for environmental infrastructure
- Automatic water quality monitoring instrument and network system
- BT-NT-IT convergent environment-friendly water treatment technologies
- Convergent-technology based environment-friendly urban-energy related research

[ Rural Environment Area ]
- Water resources and water treatment in rural area
- Waste management in rural area
- Energy cycle in rural area

[ National Water Environmen ]
- Establishment of water management system with energy recycle.
- Expansion and upgrading of National Automatic Water Quality Monitoring Network.
- Expansion and upgrading of National Water TMS.

Recent Activities
[ Research Consulting ]
- 2013 : Development of Continuous Monitoring Device for TRS(Total reduced sulfides), Upgrading Quality Assurance Procedure for National Automatic Water Quality Monitoring Network, Development of Performance Indicator for National Automatic Water Quality Monitoring System, Development of Control System for Drinking Water Treatment Plant in Developing Countries., Development of Control Scheme for Disinfection of Water in Distribution Reservoirs
- 2014 : Improvement of Water Quality in Rural Area of Fiji., Development of SBR-MC with Asahi Kasei's P Adsorption Tower for Domestic Wastewater Treatment, Surveying of O&M Market for Water Supply System in Developing Countries and Evaluation of Test-bed Operation -Development of Ultrasound and ORP based COD Analyzer
- 2015 : Design of Water Quality Monitoring System for Cambodia, Development of Adaptable Water Treatment Technology for Malaysia's Watersheds, Development of O&M Scheme for PAC-Membrane Process, Ecological Modeling and Eco-friendly Environment Management Technologies. -Development of Engineering Technology for Feed-Flexible Biogas Process, Optimization of Engineered Aqua Depuration System, Performance Evaluation of Unit Processes in Tan-cheon Water Reclamation Center., Development of MBR Process for High-strength Nitrogen Removal System
- 2016 : Development of Technology Transforming FOG to Biodiesel for improving Water Quality of Fijian Rivers., Development of Potential Risk-causing Product Management System, Optimization of Engineered Aqua Depuration System, Performance Evaluation of Unit Processes in Tan-cheon Water Reclamation Center. - Seminar :「The 10rd Asia Pacific Conference on Sustainable Energy & Environmental
University of Seoul, July 2 2015 ~ July 5 2015 「2015 Korea China Collaborative Seminar : Ecological Modeling and Eco-friendly Environment Management
University of Seoul, Dec. 7 2015 ~ Dec. 9 2015
「Water-Energy Nexus Seminar」 ,
University of Seoul, Nov. 17 2016 ~ Nov. 19 2016
Faculty
Prof. Hyunook Kim / Environmental Engineering
Dr. Sang Yee Ham / Environmental Engineering
Dr. Shabnam Nisha / Environmental Engineering
Dr. Wesam Ahmed Al Madhoun / Environmental Engineering
Dr. Min Soo Kim / Environmental Engineering
Dr. Nasehir Khan Bin E.M. Yahaya / Environmental Engineering
Dr. HajiI Wan Junaidi Bin Tuanku Jaafar / Business Administration